Dua Tahun QRIS: Mengungkap Pengalaman Bertransaksi via "Mobile Banking" dan Uang Digital
Kehadiran bank digital dinilai menawarkan proposisi nilai lebih bagi penggunaan QRIS
Dua tahun perjalanan awalnya, fitur QRIS mulai menunjukkan pertumbuhan adopsi yang luar biasa sebagaimana diulas DailySocial di tulisan bagian pertama. Hal ini divalidasi data yang dibagikan Bank Indonesia (BI) tentang peningkatan transaksi selama satu tahun terakhir.
Selain peningkatan transaksi, kami juga melihat tren antusiasme dari para pengguna yang menyoroti berbagai macam isu terkait adopsi QRIS di lapangan. Isu ini terungkap lewat survei mini yang kami lakukan kepada 65 responden. Meski belum mewakili sebagian besar pengguna layanan pembayaran digital di Indonesia, survei ini tetap sesuai dengan semangat utamanya, yakni menyoroti isu yang dapat menjadi ruang perbaikan bagi pemangku kepentingan.
Pada bagian kedua ini, DailySocial membeberkan isu-isu lain yang menyoroti lebih rinci dari perspektif pengguna, seperti kategori produk yang sering dibeli hingga platform pembayaran yang lebih digemari untuk melakukan transaksi dengan metode QRIS.
QRIS dalam penggunaannya
Pada tulisan sebelumnya, salah satu tantangan adopsi QRIS adalah keterbatasan merchant yang menerima pembayaran dengan metode ini. Tak mengherankan sebagian besar responden mengaku lebih banyak bertransaksi untuk pembelian makanan dan minuman (95,2%). Pada kategori lainnya, transaksi QRIS juga digunakan untuk pembelian kebutuhan pokok (35,5%), donasi (17,7%), dan layanan transportasi (11,3%).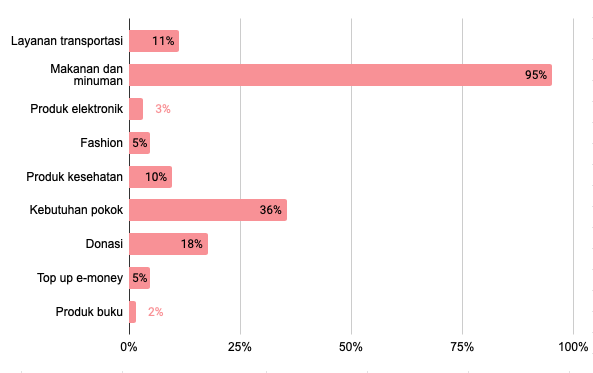 Dari 93,8% responden yang pernah bertransaksi dengan metode QR Code, sebanyak 33,3% di antaranya menghabiskan Rp50.000-Rp300.001 untuk bertransaksi. Kemudian disusul 22,7% responden menghabiskan di atas Rp1 juta, Rp500.001-Rp1.000.000 (21,2%), Rp300.001-Rp500.000 (18,2%), dan di bawah Rp50.000 (4,5%).
Welcome to Premium Content
Become a DailySocial.id Subscription, you can get unlimited access to discover the best minds of innovation and to perceive the finest tech journalism products in Indonesia. Learn more
Single Article

Access anytime, only this article.

Starting at

Rp 7,000 /article

Subscription

Unlimited access premium content.

Starting at

Rp 150,000 /month
Login or create account to access premium content
Are you sure to continue this transaction?
processing your transaction....