CGI Opens Registration for Startup Incubation Batch 2015 (UPDATED)
A new batch of Ciputra GEPI Incubator's (CGI) incubation has officially been inaugurated. The program will last for six months, and the selected startups will be guided to seal capital and other benefits. To join the program, startups must register themselves no later than this January.
Twice in every year, CGI opens the opportunity to those who want to take their business to the next level to apply for the program. Every the end of the sixth (last) month, the best perticipants gets unveiled. The investment pitching session that connects startups with investors is also done then.
To join, startups must fill out the online form that can be accessed on its website. Besides filling regular information like the startups' name and date of establishment, they also have to describe the development they've reached so far. Startups will be asked to explain their premature business (User/Unique Visitor, Revenue, and Growth Rate), background of the startup's idea (Reason and Differentiation), as well as funding that they've sealed (Investment and Equity Breakdown).
The program serves the best supporting facilities to participants, from free office that can contain up to six people to stable internet connection, expert-facilitated on-demand workshops, reading room, and weekly free coffee, it's all there.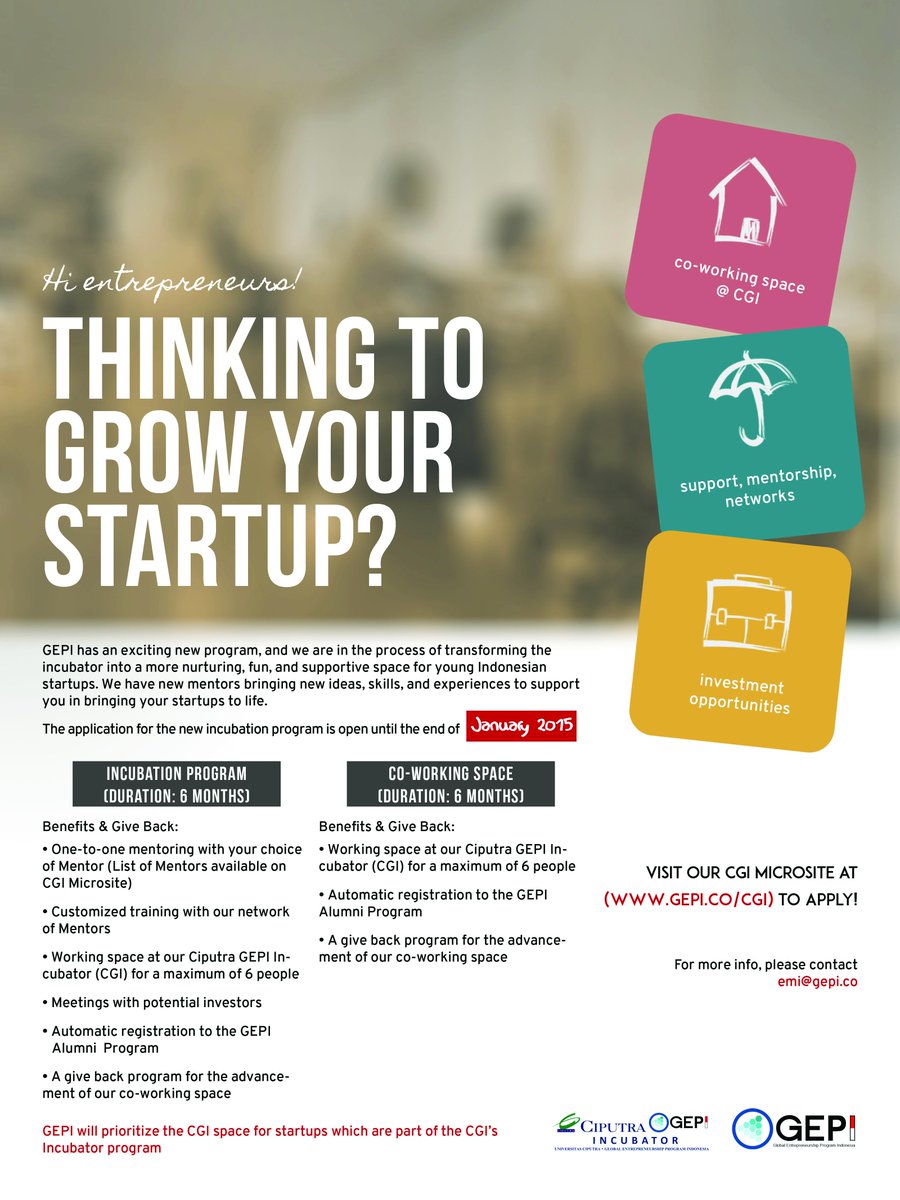 Aside from those physical infrastructures, CGI also provides non-physical supports, such as legal support, promotion and hiring necessities, feedback from mentors and experts, allowance and partnership, and many more.
To ensure that the program only produces the best graduates, CGI supplies participants with exceptional mentors whose experience and skills are undoubtedly significant. Those mentors are Achmad Zaky (BukaLapak), Ananda Siregar (Blitz Megaplex), Antonius Taufan (Gift Card Indonesia), Ariadi Anaya (JobsDB), Arief Widhiyasa (Agate Studio), Dan Knox (GSM Systems), Daniel Surya (WIR Group), Darren Miao (Rivergen), David Tjokrorahardjo dan Luke Roush (Sovereign's Capital), Dr. Grace Judio Kahl (Shape Indonesia), Etienne Emile (Bride Story), Ferry Tenka (Bilna), Hadi Wenas (aCommerce Indonesia), Hendy Setiono (Babarafi), Jimmy Masrin (Caturkarsa), Michael Saputra (Klik-Eat), Ryan Gondokusumo (Sribu and Sribulancer), Natali Ardianto (Tiket, StartupLokal), William Tanuwijaya dan Leontinus Alpha Edison (Tokopedia), dan Ryu Kawano (Veritrans Indonesia).
Register your team here and enjoy the ride.
Update: CGI clarified that they guide the startups to get the capital, not to provide them seed funding.
Are you sure to continue this transaction?
processing your transaction....