Dengan Adanya 'Layanan Berbayar', Apakah Review User Steam Bisa Dipercaya?
Tentu saja laporan ini belum membuktikan pada kita bahwa publisher atau developer permainan terlibat.
Bagi publisher game, opini profesional merupakan hal esensial. Dan tidak jarang kita mendengar rumor perusahaan-perusahaan ternama membayar media besar agar produk mereka memperoleh nilai tinggi. Skenario itu juga terjadi di skala lebih kecil, misalnya anggota tim developer/publisher menulis review positif di website distribusi digital semisal Steam.
Namun yang lebih menggelisahkan lagi, eksperimen oleh PCGamesN menunjukkan bahwa dengan mengeluarkan sedikit uang - hanya US$ 5 - game-game di Steam bisa mendapatkan skor positif. 'Layanan' tersebut dapat mudah dijumpai di website marketplace Fiverr, Anda bisa menemukannya secara gamblang, cukup menuliskan keyword 'Steam' di kolom search.
Phil Iwaniuk dari PCGamesN memulainya dengan membuat akun buat menghubungi tiap penjaja jasa review Steam. Umumnya mereka meminta kode permainan, dan Iwaniuk secara terbuka menyampaikan game bukanlah karya buatannya. Phil tidak mencoba menutupi identitas, alamat email, serta tempat ia bekerja. Tiap seller segera merespons, dan langsung mengontak Iwaniuk via Steam. Melalui cara ini, ia bisa mengetahui game-game apa saja yang mendapatkan ulasan berbayar.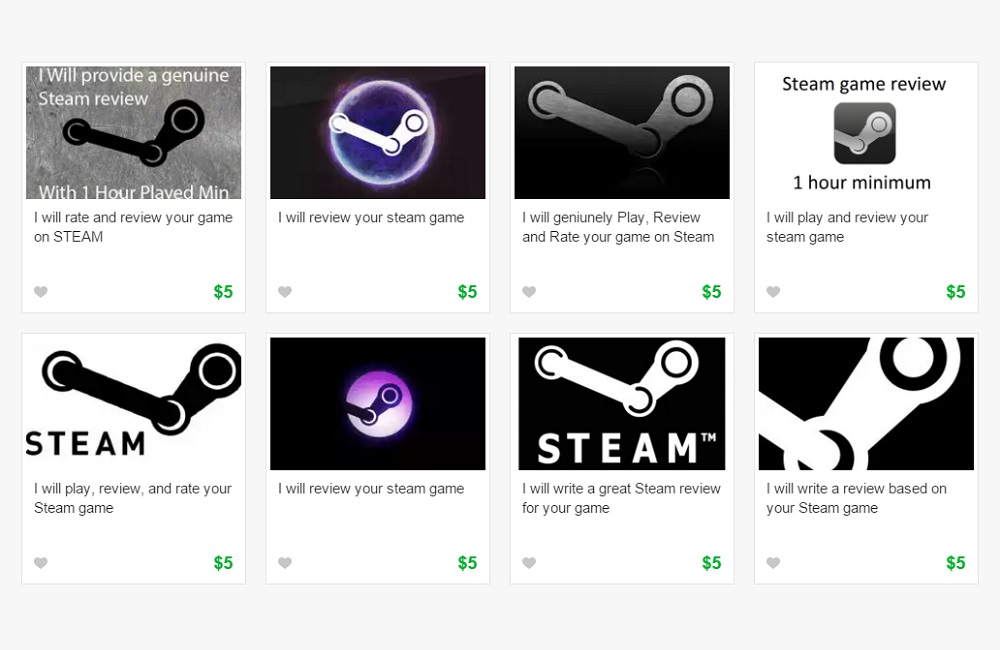 Iwaniuk menemukan 20 permainan yang muncul lebih dari dua kali dalam daftar penyedia jasa review Steam, dan meskipun Counter-Strike serta Super Hexagon ada di sana, sisanya merupakan judul-judul yang jarang sekali kita dengar: Apocalyse Hotel, Blood of Magic, Cat Simulator, D3DGear, Gods Vs Humans sampai Home Design 3D.
Di deskripsi awal, memang tidak ada penjual yang mengaku terang-terangan ulasannya akan positif. Tetapi setelah mengirim email serupa pada 13 seller, sebagian besar mengonfirmasinya, menjawab: 'Tidak perlu disebutkan, tapi iya'; 'Tidak bisa memberi garansi, namun semua review saya positif'; bahkan seseorang menjaminnya dan menyediakan link ke profile Steam sebagai portfolio.
Dari 13 penjual review, hanya satu yang enggan menjamin thumbs-up/nilai positif. Ia menjelaskan bahwa ulasan darinya bersifat apa adanya, "Jika Anda sedang mencari ulasan-ulasan palsu, ada banyak penjaja di Fiverr yang menawarkan layanan tersebut. Saya menyarankan Anda agar berhati-hati karena walaupun di waktu dekat cara ini membuat produk terlihat bagus, tapi akan berdampak buruk di waktu ke depan."
Terlepas dari pemaparan di atas, sebaiknya kita tidak mencoba menggeneralisasi atau buru-buru mengambil kesimpulan. Laporan itu belum membuktikan pada kita bahwa publisher atau developer video game terlibat, namun ada satu fakta penting di sini: siapapun bisa menggunakan jasa paid review.
Are you sure to continue this transaction?
processing your transaction....