Dihantam Pandemi, Adopsi Aplikasi Fintech di Indonesia Masih Terus Bertumbuh
Laporan AppsFlyer mengatakan sempat terjadi penurunan penggunaan fintech saat lockdown pertama, namun kini kembali berangsur naik
Yenny Yusra - 22 June 2021
Penggunaan layanan fintech dan digital banking mengalami pertumbuhan pesat sepanjang tahun 2020 hingga saat ini. Salah satunya dibuktikan dalam riset yang dilakukan AppsFlyer. Dalam laporan berjudul "The State of Finance App Marketing 2021" disebutkan, aplikasi-aplikasi tersebut memainkan peranan kunci di negara berkembang seperti Indonesia. Salah satunya ditengarai masih banyak orang yang masuk dalam kategori unbanked atau underbanked.
Meskipun permintaan secara global menurun selama masa lockdown pertama, akibat aktivitas keuangan menurun dan ketidakpastian meningkat, penggunaan aplikasi finansial kembali bertumbuh pada Q2 tahun 2020. Pada Q1 2021, akselerasi digital yang makin meningkat telah mempercepat adopsi aplikasi pembayaran, investasi, dan perbankan.
Kategori layanan finansial lainnya yang menjadi sorotan AppsFlyer adalah aplikasi bank digital, bank tradisional, layanan finansial, pinjaman, hingga investasi; termasuk di dalamnya perdagangan, kripto, pasar saham, serta instrumen lainnya. Secara keseluruhan ada 2,7 miliar unduhan aplikasi finansial di kawasan Asia Pasifik antara Q1 2019 hingga Q2 2021.
Dalam laporan tersebut juga terungkap bahwa banyak perusahaan finansial yang kemudian meningkatkan upaya untuk mengarahkan lebih banyak trafik ke aplikasi, menggunakan kombinasi aktivitas akuisisi pengguna dan remarketing.
Sementara itu juga tercatat secara global pemasangan aplikasi perbankan digital meningkat hampir 45% antara Q1 2020 dan Q1 2021, dan terus mengalami peningkatan saat pandemi. Sementara instalasi aplikasi layanan keuangan dan perbankan tradisional hanya naik 15% dalam jangka waktu yang sama. Namun, bank tradisional menambah kecepatan dengan kenaikan pemasangan aplikasi sebesar 22% pada Q1 2021.
Indonesia dan popularitas aplikasi finansial
Terdapat 3 negara yang mengalami pertumbuhan paling pesat terkait dengan penggunaan aplikasi finansial. Di antaranya adalah India sebagai negara peringkat pertama, disusul oleh Brazil dan Indonesia yang berada dalam peringkat kedua dan ketiga.
Dari data yang dihimpun, aktivitas penggunaan aplikasi finansial sempat menurun di periode Q2 2020 di Indonesia. Hal ini ditengarai adanya hambatan di iklim perekonomian akibat pandemi. Secara YoY turun mencapai 40%. Namun demikian berangsur naik dari waktu ke waktu seiring kondisi pasar dan perekonomian yang mulai membaik.
Para pengguna umumnya mengunduh aplikasi mobile payment dan aplikasi pinjaman. Dua kategori besar ini berkontribusi besar terhadap jumlah total unduhan.
Namun secara keseluruhan, laporan AppsFlyer membagi beberapa kategori aplikasi finansial yang banyak diunduh pengguna di tanah air, di antaranya adalah aplikasi dari bank tradisional (13,9%), kemudian layanan finansial (40,9%), pinjaman (35,7%), dan investasi (9,5%).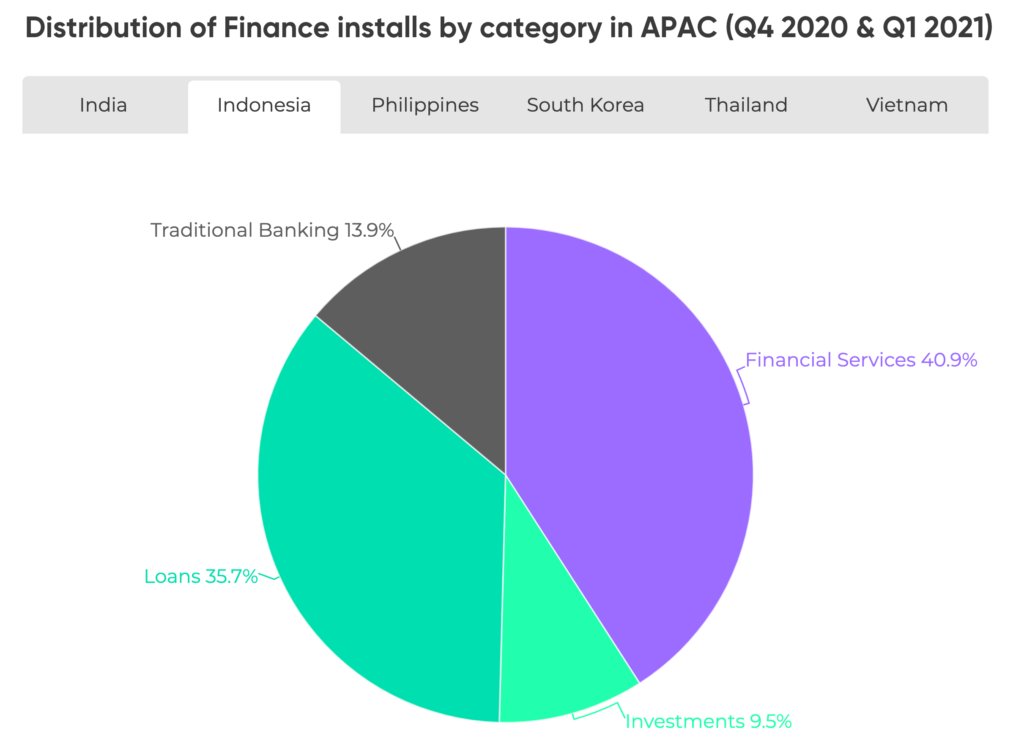 Pandemi juga mendorong pertumbuhan jumlah pengguna baru. Di Indonesia pertumbuhannya mencapai 20% jika melihat kondisi di Q1 2020 dan Q1 2021.
"Sektor fintech telah beradaptasi secara drastis pada berbagai perubahan lingkungan dan mengakselerasi transformasi digital, terutama di negara-negara berkembang, di mana sangat banyak masyarakat yang belum punya rekening bank dan tidak memiliki akses ke perbankan," kata Senior Customer Success Manager APAC AppsFlyer Luthfi Anshari.
-
Gambar Header: Depositphotos.com
Are you sure to continue this transaction?
processing your transaction....