Layanan Ekrut Usung Sistem "Talent Marketplace", Konsepnya Perusahaan yang Menemukan Talenta
Dikabarkan telah dapatkan pendanaan seri A dari Venturra Capital dan Prasetia Dwidharma
Di tengah persaingan layanan platform perekrutan, inovasi tetap menjadi kunci untuk memenangkan pasar. Setidaknya hal tersebut diyakini Ekrut, platform lokal yang menghubungkan talenta potensial dengan kebutuhan bisnis. Sepanjang tahun 2018, startup yang didirikan Anthony Kusuma dan Steven Suliawan tersebut telah merilis beberapa fitur baru, di antaranya talent marketplace dan marketplace curation algorithm (MCA).
Marketing Manager Ekrut Aldo Imanuel menjelaskan, konsep talent marketplace yang diusung ialah berbasis data science, diklaim menjadi yang pertama di Indonesia. Sementara MCA merupakan data engine yang menjadi "otak" utama dari proses pencocokan antara talenta dengan kebutuhan perusahaan.
"Layanan lain kebanyakan masih menggunakan konsep job portal, perusahaan mengunggah lowongan, dengan harapan mendapatkan talenta yang sesuai. Sedangkan di Ekrut kami menggunakan konsep sebaliknya, talenta mendaftar dan perusahaan yang akan mencari kandidat sesuai preferensi," jelas Aldo.
Dengan konsep tersebut, Ekrut menilai akan mempermudah dan mempercepat proses perekrutan, dari yang biasanya butuh waktu 2-4 minggu, kini hanya dalam hitungan menit. Ekrut dari awal berfokus pada pemenuhan talenta di bidang teknologi informasi.
"Semua teknologi yang dibangun berpusat pada bagaimana kami bisa menghubungkan ribuan perusahaan ini dengan talenta yang mereka butuhkan dengan cepat dan relevan," lanjut Aldo.
Didukung mantan engineer Tesla untuk pengembangan produk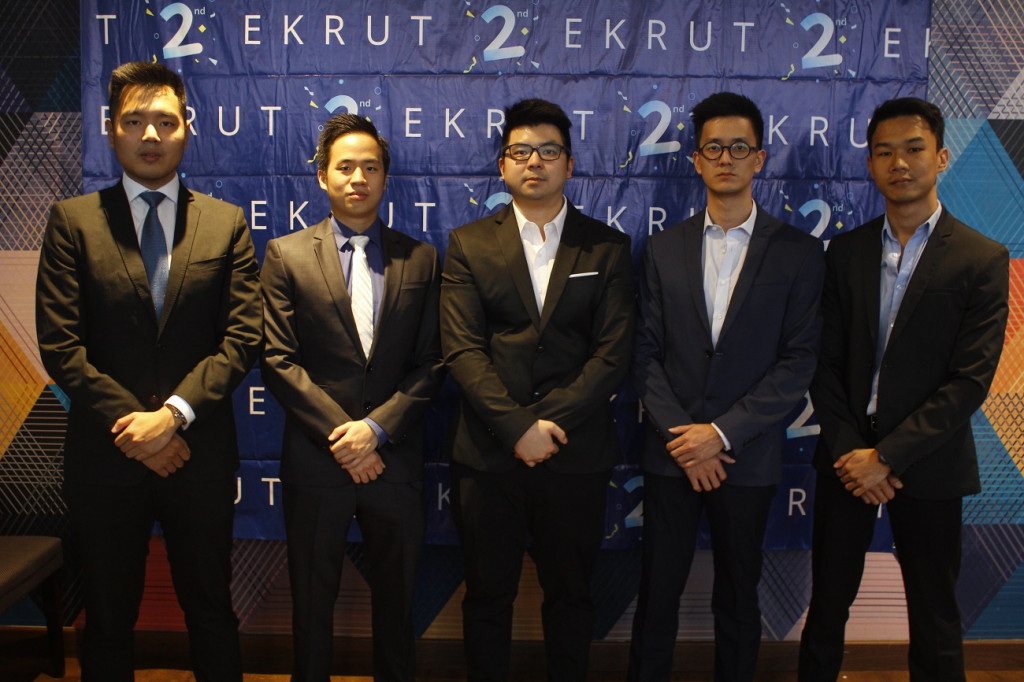 Sekitar bulan Desember 2018, Ekrut dikabarkan mendapatkan pendanaan seri A dari Venturra Capital dan Prasetia Dwidharma. Di sesi wawancara kami mencoba mengkonfirmasi hal ini, namun pihak Ekrut belum bisa menginfokan lebih lanjut. Sebelumnya Ekrut memperoleh pendanaan awal dari East Ventures.
Banyak agenda yang akan dilaksanakan Ekrut di tahun 2019. Menurut pemaparan Aldo, salah satu yang menjadi fokus padalah pengembangan produk. Misinya masih tetap sama, berusaha menghasilkan teknologi dan layanan paling efisien untuk proses perekrutan, baik dari sisi HR di perusahaan maupun pelamar.
"Product roadmap kami sangat padat di tahun ini terlebih sejak kedatangan mantan senior engineer Tesla yang menjadi Chief of Product kami pada awal Q4 kemarin," terang Aldo.
Sejak konsep talent marketplace diluncurkan di awal tahun 2018, total pencari kerja yang tergabung melonjak, dari berjumlah ratusan kini mendekati seratus ribu orang. Pun demikian statistik lowongan, proses wawancara, dan perekrutan, meningkat pesat di banding tahun sebelumnya.
Menurut Aldo, hal ini didorong karena penggunaan data science dan algoritma yang membuat perusahaan-perusahaan di Ekrut mendapatkan rekomendasi terbaik untuk memenuhi kebutuhannya.
Application Information Will Show Up Here
Are you sure to continue this transaction?
processing your transaction....