Fintech Business in the First Half of 2020
Remittance tech startups should be a highlight
Randi Eka - 18 September 2020
Financial technology (fintech) is a well-developed business landscape in Indonesia. The growth lies on both sides, from businessmen and consumers. It is recognized by the increasing categories of fintech services in Indonesia with an increasing user base. Annually, DSResearch is to release "Fintech Report", an integrated report discussing the trends and dynamics of the related industry.
Earlier this year, in the latest published report, presented some interesting data. One of which is related to the distribution of funds by p2p lending startups. Last year, the value was up to IDR 60.4 trillion, increased by almost 3 times from the previous year. Borrower accounts registered with the OJK also increased to 14.3 million, 3 times exceeding from a total number in 2018 at 4.3 million accounts.
In conclusion, there is always an increase in business from year to year, with the most popular sub-businesses related to loans and digital wallets. Unlike this year, Covid-19 has "disrupted" various business arrangements, including fintech, therefore, many business agendas must be readjusted. However, has this pandemic really caused significant disruption to fintech in Indonesia?
This article intends to present analysis and comparison data, referring to business activities that have taken place during the first half of 2020.
Startup funding
Amid business objectives to accelerate growth, funding is an important business aspect that the founder continues to strive for. In the first half of 2020 (H1 2020), there were 8 funding involving fintech startups operating in Indonesia. Regarding transactions, the number decreased compared to H1 2019, last year there were 12 transactions. However, in terms of nominal (published), the value is much greater in H1 2020.
There are no publications of fintech funding throughout the first quarter of this year, all the news starting to be announced in April 2020. Here's the full list:
Stage
Month
Startup
Value
Debt Funding
April
KoinWorks
$20 million
May
KoinWorks
$10 million
Pre-Series A
May
Pintek
Undisclosed
Series A
April
Qoala
$13.5 million
June
Wallex Technologies
Undisclosed
Series B
March
Digiasia Bios
Undisclosed
Series C
April
Investree
$23.5 million
April
Modalku
Undisclosed
If last year most of the funding was in the early stages, this year more funding was disbursed for further funding. Some analysts have predicted that the crisis caused by this pandemic will make investors more selective in disbursing their funds. Most chose to increase the spin in established businesses and get good traction, also in this Covid-19 period.
In addition, Cashlez made a successful IPO on the Indonesia Stock Exchange earlier this year. The company released 250 million new shares at Rp350 per share. This amount of capital includes approximately 17.5 percent of the paid-up and issued capital. Successfully booked Rp 87.5 billion from the event.
P2P lending amid pandemic
The Indonesian Joint Funding Fintech Association (AFPI) in early June 2020 published its research. It is disclosed that during the pandemic period, loans that were successfully facilitated and approved by lenders reached IDR 237 billion from 674 thousand accounts/transactions. The survey was held on 9-14 May 2020 with 143 p2p lending organizers as respondents.
In terms of consumer, the return rate is quite stable. A total of 90 platforms claim that TKB90 is stable, 34 platforms claim that TKB90 has increased, and 6 platforms claim that TKB90 has increased. TKB90 is a credit quality level on a platform. The higher and closer to level 100, the better. Based on OJK's data as of March 2020, the TKB90 for the p2p lending industry was recorded at the level of 95.78%.
As of April 2020, the accumulated lending in the p2p lending industry was IDR 106.06 trillion, increased by 186.54% YoY. Java Island dominates the total loans of up to Rp 90.88 trillion, the remaining Rp 15.18 trillion comes from outside Java. The number of registered lenders was 647,993 and borrowers reached 24.77 million.
Product consolidation and innovation
Several new product initiatives are being rolled out by local fintech players. Last June, KoinWorks announced that they are serious about working on the investment business, they are collaborating with MMI to release a mutual fund feature through its application. Regarding investment, Indodax and Tanamduit have also expanded their business to accommodate these demands, by presenting a digital gold sell-and-buy feature.
Another collaboration formed between Dana and YesDok, for a telemedicine feature on the Dana app – previously Gojek-Halodoc and Grab-Ping An had released similar services. In the meantime, LinkAja launched a sharia feature to work on new market segments. Several business platforms outside the fintech industry also expand their business lines in the financial sector. As an effort of helping SME partners in their ecosystem, Moka and eFishery have launched the capital-loan feature this year.
This year, the banking sector also increased its penetration to present technology products. Expecting good fortune in the digital wallet ecosystem, Bank OCBC NISP has started to seriously work on ONe Wallet. Jenius also strengthened the features in the application, last May they introduced Moneytory to help users with personal financial planning. Meanwhile, Bank Mandiri also released a special application to accommodate MSME loans this year.
Remittance should be a highlight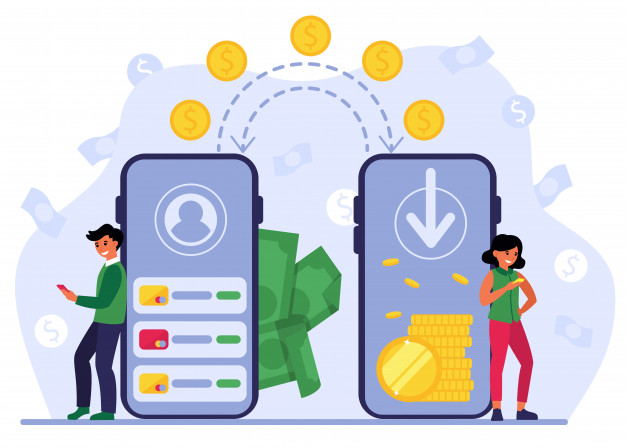 In the first half of 2020, two remittance-related innovations were introduced. First, Zendmoney attempts to bridge migrant workers, then the OY! Indonesia, which released a new feature entitled remittances. The demand for cheap and efficient cross-country transactions has succeeded in making players in this sub-sector capture the consumers'attention.
DailySocial had a chance to talk with two remittance players, Transfez and Topremit. Transfez' representative said, since the Covid-19 pandemic in March 2020, the number of Transfez users has increased by more than 400%. Moreover, TopRemit claims to have successfully processed more than 280 billion Rupiah with 16 thousand users registering and within the first 6 months of 2020.
Wallex Technologies is a player in local remittance technology which is getting funding this year. During the pandemic period, they claim on average a 20% increase in business every month.
In May 2020, BRI Ventures also announced to involve in Nium funding, a Singapore-based remittance startup. Visa also participates in this round. Before changing its name, Nium has secured an investment from MDI Ventures in 2014. Then, MDI Ventures was still directed by Nicko Widjaja, who now leads BRI Ventures. In the first quarter of 2020, Nium achieved a transaction value of $2 billion.
Fintech's future development
Unfortunately, the pandemic impact is yet to end. Even in various cities, PSBB is still running to prevent virus transmission, which indeed has an impact on the economy in the local area. Basically, fintech startups work to "accommodate" the economic (monetary) process of society, as simple as: digital wallets will only be filled when the user has money/income. Therefore, the ongoing economic slowdown can also have a negative impact related to traction.
On the other hand, people are still pursuing many opportunities. There are more activities at home, many have started to try their luck with entrepreneurship – starting food, crafts, or other services. At a time when banks are increasingly selective in applying for credit, p2p lending can be an alternative solution for capital. Nevertheless, the challenge for the platforms is an increase in risk analysis – some credit scoring players are starting to emerge to accommodate these needs.
Beyond remittances and the popular fintech business model, there are still some business opportunities with potential development. There are two, we projected to be significant are the insurtech and equity crowdfunding. Supported by a quite low insurance penetration that continues to increase, and the culture of mutual cooperation that is unique to Indonesian society.
–
Original article is in Indonesian, translated by Kristin Siagian