Kopi Kenangan Bags 1.3 Trillion Rupiah Funding, Becoming Indonesia's First New Retail Unicorn
Kopi Kenangan has currently raised $240 million in equity funding from investors
Kopi Kenangan has closed its Series C's first round of $96 million or equivalent to 1.3 trillion Rupiah. Along with the recent investment, the company also announced the "unicorn" status with valuation exceeding $1 billion. Kopi Kenangan is the first unicorn for a new retail business.
This round was led by Tybourne Capital Management, with the participation of previous investors including Horizons Ventures, Kunlun, and B Capital; and new investor Falcon Edge Capital. The fresh fund will be focused on expanding F&B brand to new cities in Indonesia. In addition, the company is also starting to explore the regional market.
"The investor's suppport becomes a proof and motivation for us to continue focusing on store productivity by leveraging technology to deliver the best experience for every customer [...] we are committed to rapidly expanding our reach to thousands of stores in Southeast Asia, while complementing our portfolio We provide products to meet market needs," Kopi Kenangan's Co-Founder & CEO, Edward Tirtanata said.
Based on our observation, Kopi Kenangan has raised a total $240 million from investors with the following details:
| | | | |
| --- | --- | --- | --- |
| Date | Stage | Investor | Value |
| October 2018 | Seed Funding | Alpha JWC Ventures | $8 million |
| June 2019 | Series A | Sequoia Capital India, Alpha JWC Ventures | $20 million |
| December 2019 | Series A+ | Arrive, Serena Ventures, Caris LeVert, Jonathan Neman, Sequoia Capital India | $1,5 million |
| May 2020 | Series B | Sequoia Capital India, B Capital, Horizons Ventures, Verlinvest, Kunlun, Sofina, Alpha JWC Ventures | $109 million |
| December 2021 | Series C | Tybourne Capital Management, Horizons Ventures, Kunlun, B Capital | $96 million |
The journey
Edward co-founded Kopi Kenangan with James Prananto (CBDO) and Cynthia Chaerunnisa (CMO) in 2017. They are targeting the gap in the Indonesian market, between expensive coffee served at international coffee chains and cheap instant coffee sold through stalls (warung).
Kopi Kenangan also utilizes technology to improve user experience, as well as increasing business agility with an online to offline strategy. Customers can easily order coffee through its app, either for home-delivery, or direct pick-up at one of Kopi Kenangan outlets in Indonesia.
Through the business model, Kopi Kenangan has rapidly growing. Over the past 12 months, the brand has served 40 million cups, targeting 5.5 million cups per month in Q1 2022. They currently managed 3,000 staff in more than 600 outlets in 45 cities in Indonesia.
During the Covid-19 pandemic, Kopi Kenangan has proven its adaptability to the changing business climate and challenges. This step was taken by implementing new strategies, such as contactless booking request system that helps increase revenue growth and user base.
Local coffe-chain business
The positive feedback from the community of coffee products with the "grab and go" concept has crowded this industry. Based on DailySocial's data, as of November 2021, there are over 4,500 coffee-chain distributed throughout Indonesia.
Some of the businesses are now optimizing digital platforms to improve their business and customer experience, including Kopi Kenangan, Fore Coffee, and JIWA Group which recently announced funding.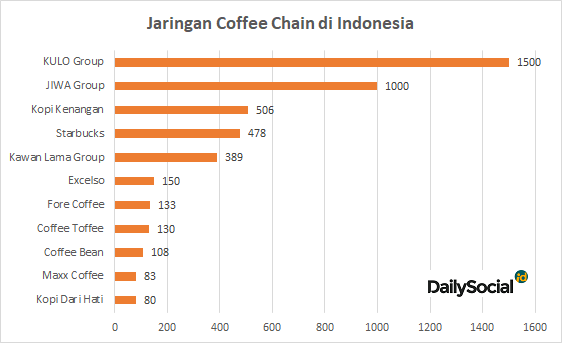 According to research (MIX, 2020), 40% of coffee customers in Indonesia are starting to switch to grab & go outlets. This is due to shifting from instant coffee, as consumers want a higher quality drink -- as well as pairing it with complementary snacks.
The grab & go concept alone is very dependent on the outlets, although some are only used as production sites (without dine-in). For this reason, Kopi Kenangan-like startups are indeed asset-heavy, it requires a large investment in order to significantly accelerate the business.
Applications are designed to connect consumers with outlets, taking them from online to offline – or vice versa. This model is quite efficient, as companies can also take advantage of data obtained from consumer habits recorded in the application, therefore, they can offer products and services in line with its market share. In terms of consumers, the convenience and value added make them willing to use the application.
| | | | |
| --- | --- | --- | --- |
| Rank (Nov 2021) | App | Download | Rating |
| 6 | Kopi Kenangan | 1 million+ | 4,6 |
| 13 | Boba Ceria | 100 thousand+ | 4,3 |
| 17 | Chatime Indonesia | 500 thousand+ | 4,5 |
| 21 | JIWA+ | 100 thousand+ | 4,7 |
| 22 | ISMAYA | 100 thousand+ | 4,4 |
| 24 | Fore Coffee | 100 thousand+ | 4,6 |
| 61 | Flash Coffee | 50 thousand+ | 4,6 |
| 92 | KULO | 10 thousand+ | 1,7 |
In terms of business, based on a report compiled by Statista, revenue from the coffee business (roast coffee) will reach $9.5 billion this year. It is estimated to experience a CAGR growth of 9.76% until 2025.
–Original article is in Indonesian, translated by Kristin Siagian
Are you sure to continue this transaction?
processing your transaction....