Pandemi Dorong Perubahan Adopsi Aplikasi Kencan
Salah satu perubahan paling signifikan adalah "video dating" mulai diterima secara luas
"Pandemi membawaku ke sini" atau "bagaimana dengan hari-hari karantinamu" mungkin adalah dua jenis pembuka paling sering ditemui di layar aplikasi kencan hampir satu tahun belakangan ini. Jauh dari hiruk-pikuk isu kesehatan, bisnis jodoh ternyata melambung pesat akibat pandemi.
Semua berubah ketika wabah menghantam berkepanjangan seperti sekarang ini. Mengisolasi diri tanpa teman dan hilangnya kesempatan meraih intimasi karena terpaksa membatasi diri berinteraksi dengan seseorang adalah dua hal yang sulit dikompromikan. Keberadaan aplikasi kencan tak pernah sepenting sekarang.
"Saat ini sulit untuk menyangkal bahwa 'kehidupan nyata' bersifat fisik dan digital. Social distancing membantu semua orang memahami apa yang sudah kami ketahui di Tinder bahwa koneksi yang terbentuk sepenuhnya melalui sarana digital juga sama bermakna seperti yang terbentuk secara fisik," ucap juru bicara Tinder Asia Pasifik kepada DailySocial.
Melambung pesat
Bukti eksistensi aplikasi kencan kian kuat terbukti dari angka penggunaan selama pandemi. Apptopia mencatat jumlah pengguna aktif harian (DAU) Tinder melonjak menjadi 5 juta dan Bumble menjadi 4,2 juta pengguna. Hitungan mereka, pada November 2020, sekitar 20 aplikasi kencan di AS memperoleh rata-rata gabungan 17 juta pengguna harian atau 2 juta lebih banyak dari DAU November tahun sebelumnya.
Riset lebih dekat dengan pengguna aplikasi kencan di Indonesia dilakukan Lunch Actually. Lewat metode survei yang dilakukan ke 3500 lajang di Singapura, Bangkok, Kuala Lumpur, Manila, dan Jakarta, Lunch Actually mendapati 41% responden menjawab tidak ingin sendirian selamanya. Sebanyak 31% lainnya mengaku pandemi menyadarkan mereka pentingnya memiliki pasangan hidup.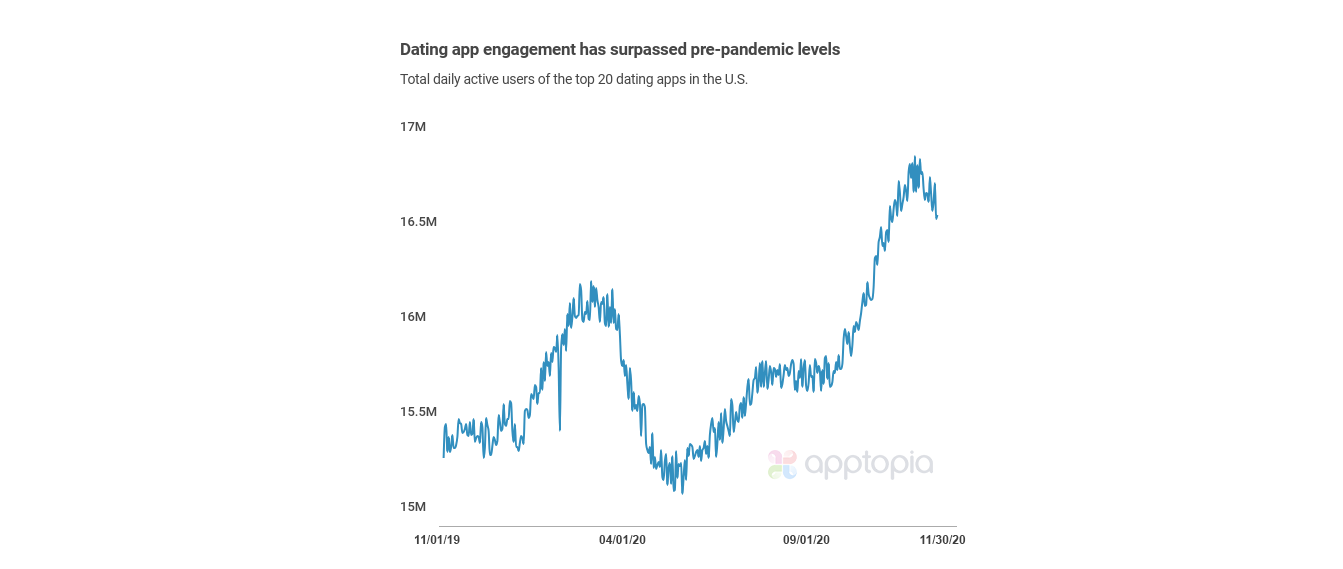 Video dating mulai diterima
Welcome to Premium Content
Become a DailySocial.id Subscription, you can get unlimited access to discover the best minds of innovation and to perceive the finest tech journalism products in Indonesia. Learn more
Single Article

Access anytime, only this article.

Starting at

Rp 7,000 /article

Subscription

Unlimited access premium content.

Starting at

Rp 150,000 /month
Login or create account to access premium content
Are you sure to continue this transaction?
processing your transaction....