Samsung Pay Resmi Gandeng Dana dan GoPay
Akses dompet digital khusus pengguna Samsung
Setelah sebelumnya diperkenalkan awal tahun 2019, Samsung Pay meresmikan kerja sama strategis dengan Dana dan GoPay untuk pengguna smartphone Samsung di Indonesia. Kepada media, Head of Product Marketing IT and Mobile Samsung Electronics Indonesia Denny Galant mengklaim, kehadiran Samsung Pay sebelumnya telah disambut baik di berbagai negara. Di Indonesia, Samsung Pay menggandeng Dana dan GoPay yang dinilai sudah memiliki positioning yang kuat dan platform dompet elektronik yang populer di Indonesia.
"Tujuan utama kami adalah memberikan kemudahan layanan kepada pengguna. hanya satu akses dan cara cepat dan mudah memanfaatkan camera, proses pembayaran menggunakan Dana dan GoPay bisa melalui smartphone Samsung."
Semua smartphone Samsung yang diluncurkan tahun 2019 secara otomatis bisa memanfaatkan Samsung Pay secara pre-installed. Untuk seri lainnya juga bisa memanfaatkan Samsung Pay dengan mengunduh aplikasinya, selama versi OS smartphone tersebut adalah Android Pie. Samsung Pay hanya berfungsi sebagai akses, bukan dompet elektronik yang diterbitkan oleh Samsung.
"Kita berupaya untuk memberikan kemudahan kepada pengguna yang saat ini banyak menggunakan aplikasi dompet digital. Berdasarkan riset Kadence Indonesia tahun 2019, sebanyak 57% pengguna smartphone telah memiliki uang elektronik dalam aplikasi maupun kartu fisik," kata Denny.
Samsung sendiri saat ini mengklaim telah memiliki 70% market share untuk seri premium. Jumlah tersebut bisa dimanfaatkan Dana dan GoPay untuk memperluas layanan sekaligus menambah jumlah pengguna. Untuk saat ini Samsung Pay dengan Dana sudah bisa dinikmati pengguna, sementara untuk GoPay, baru bisa diluncurkan awal tahun 2020 mendatang.
Jaminan keamanan Dana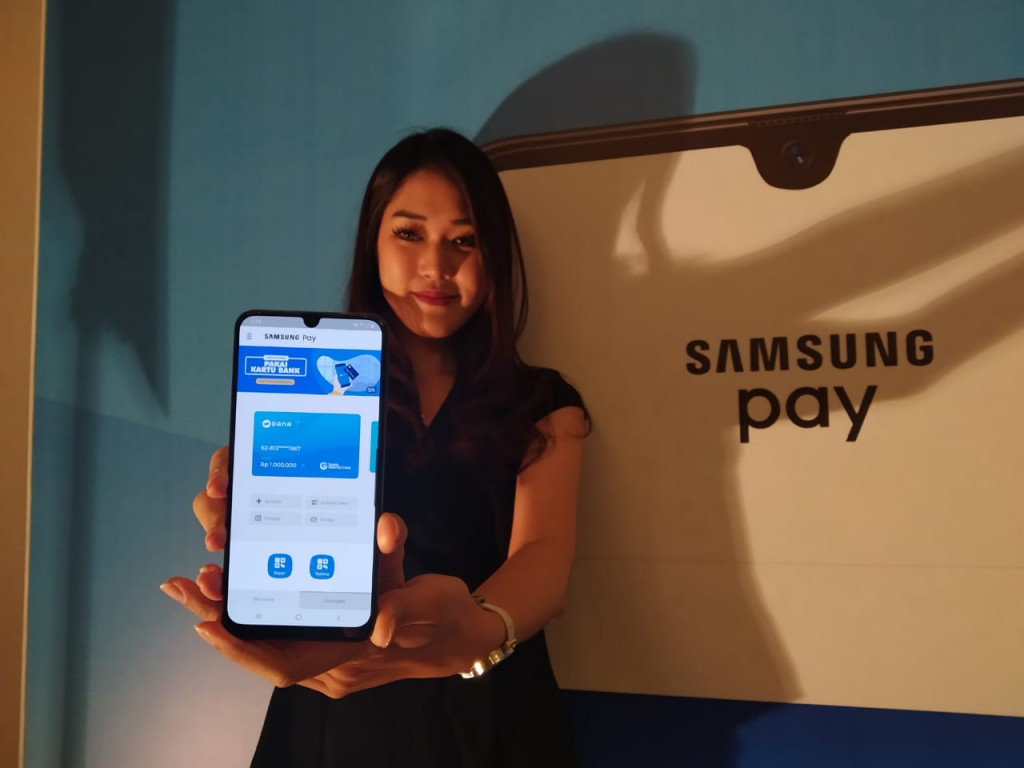 Pengguna yang ingin menikmati akses akun Dana di Samsung Pay, tidak harus mengunduh aplikasi Dana. Di aplikasi Samsung Pay, integrasi platform Dana sudah lengkap dengan pilihan pembayaran, transfer, dan lainnya.
Pengguna tidak perlu lagi membuka aplikasi Dana jika ingin melakukan pembayaran. Hanya dengan akses camera, QR Code yang diminta untuk proses pembayaran bisa langsung di-scan dan secara otomatis akan terkoneksi dengan akun Dana pengguna.
"Sebagai global player yang telah memiliki jumlah pengguna yang besar, kami melihat kerja sama ini sangat menguntungkan Dana. Sesuai dengan misi dan visi dana memudahkan penyebaran cashless society di Indonesia," kata CEO Dana Vincent Iswara.
Dari sisi keamanan, Dana menjamin semua proses berlapis telah diterapkan, sehingga para pemilik akun Dana tidak perlu merasa khawatir akan akses terbuka yang terdapat dalam Samsung Pay.
Setelah kerja sama dengan Dana dan GoPay, Samsung Pay juga memiliki rencana untuk menjalin kemitraan dengan platform dompet elektronik lainnya.
Application Information Will Show Up Here
Application Information Will Show Up Here
Application Information Will Show Up Here
Are you sure to continue this transaction?
processing your transaction....