Introducing Sertiva, a Digital Certificate Issuance Service
A platform for digital certificate issuers, recipients and validators
Based in Yogyakarta, Sertiva is to offer a digital certificate (e-certificate) issuance solutions. It is considered quite relevant to the current conditions, when people are started to organize many online events.
Sertiva's Co-Founder Saga Iqranegara said, since 2015 he has been quite active in ADITIF, an association for creative industry players. He found the fact that there was an imbalance of talent with competence. From there Sertiva is to connect job seekers and talents through a digital certificate publishing platform.
"I see that the link-and-match issue in the employment industry is quite vital because there is no single data linking the workforce with the industrial world. Then, the idea emerged to create Sertiva, a platform for issuing digital certificates or diplomas, therefore, we can asses someone's competence which eventually will help the link-and-match process within th the industry," Saga explained.
Sertiva is designed for three types of users. The first is for the Issuer or certificate issuer, the second is for the certificate holder or recipient, and the third is the Validator or party that verifies the authenticity of the electronic certificate.
"We implement an annual subscription system for Sertiva services. Sertiva's clients come from various types of organizations, from communities, vocational schools, startups, even state-owned enterprises," said Saga.
Momentum amid pandemic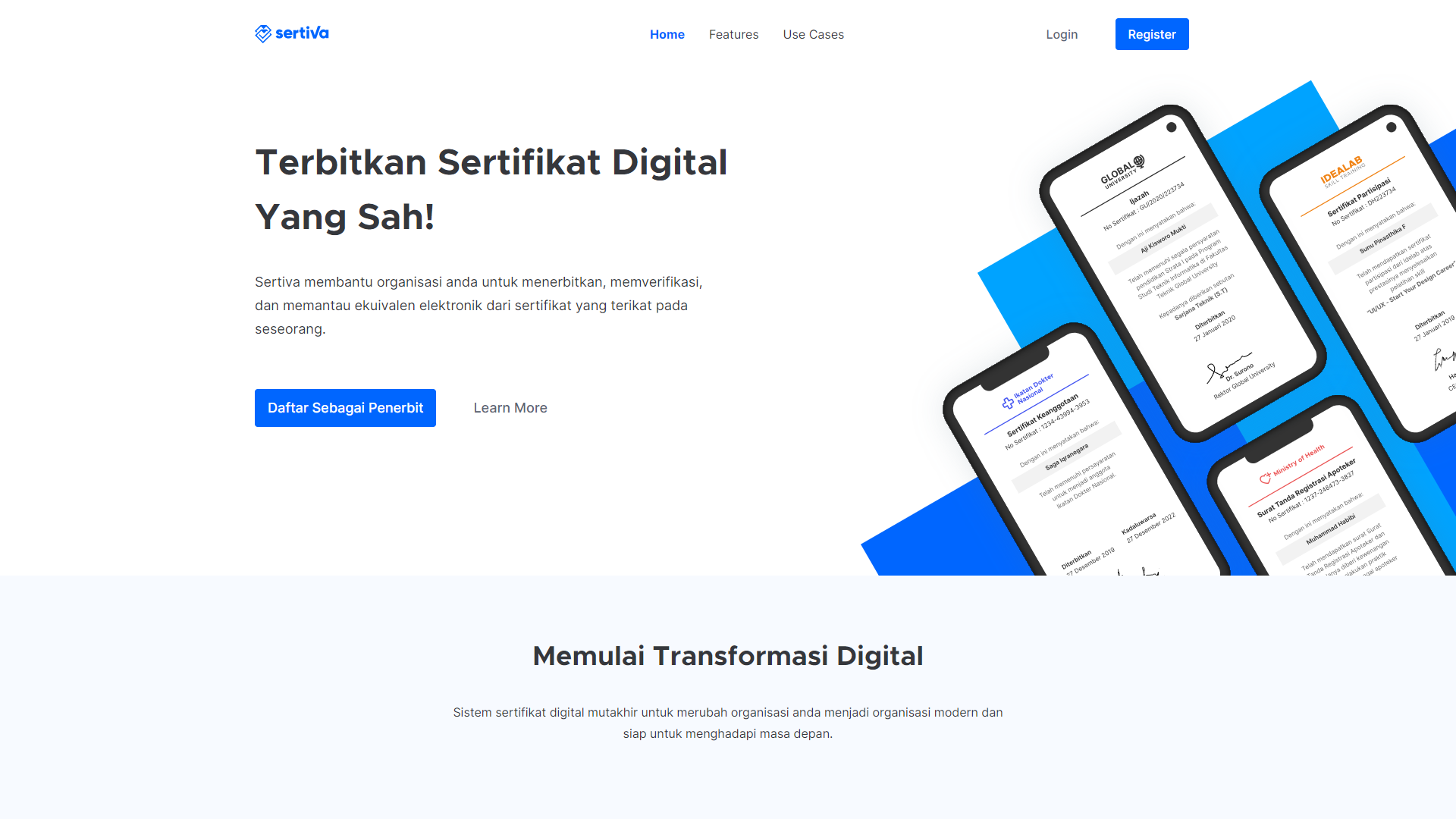 The operational has been running for over a year. It has been trusted by 50 issuers consisting of companies and institutions with more than 2500 digital certificate holders.
At first, Saga said that they were pessimistic about the feedback. This is due to its relatively new technology and solutions. However, since the pandemic, where many activities were carried out virtually, Sertiva seemed to have gained momentum and proved that the solution they brought is in demand.
"It is proven by some clients using our service because they had to completely shift the offline to online events. Since mid-2020, we are increasingly convinced that this is the momentum for Sertiva , and our marketing targets are eventually influenced by the current circumstances shifting to e-certificate technology," Saga added.
Currently, Saga with two other co-founders, Aji Kisworo Mukti and Donni Prabowo are trying to the product. This includes education about digital certificates.
"Our future plan is to expand the adoption of e-certificate technology from Sertiva. There are many people who are mistaken for digital certificates. The certificates in the JPEG or PDF file format that they have issued are not actual e-certificates. What we've been doing at Sertiva, it is necessary to provide the widest possible education to the community," Saga said.
Sertiva is also part of the Telkom Group's incubator program, Indigo Creative Nation, and has received initial funding through the program. Previously, they were also participants in the DSLaunchpad virtual incubator program held by DailySocial.
–Original article is in Indonesian, translated by Kristin Siagian
Are you sure to continue this transaction?
processing your transaction....