Startup "E-commerce Membership" Cosmart Terima Pendanaan Awal 76 Miliar Rupiah
Investor yang berpartisipasi adalah Lightspeed, East Ventures, Vertex Ventures, serta angle investor Henry Hendrawan dan Albert Lucius
Startup e-commerce membership Cosmart mengumumkan pendanaan awal sebesar $5 juta (atau sekitar 76,3 miliar Rupiah) dari Lightspeed, East Ventures, Vertex Ventures Asia Tenggara & Asia, serta diikuti angel investor, Henry Hendrawan dan Albert Lucius.
Cosmart berambisi ingin menghadirkan pengalaman belanja rutin secara mudah dan murah, sehingga mereka dapat menghemat dari berbagai aspek untuk fokus pada hal yang lebih penting.
Dana segar akan dimanfaatkan untuk memperkuat teknologi dan infrastruktur, membangun tim dan kemitraan yang kuat dengan prinsipal sekaligus para pemain kunci dalam ekosistem rantai pasokan.
Cosmart memosisikan diri sebagai one-stop-solution untuk konsumen yang ingin membeli kebutuhan bulanan. Dengan membayar biaya keanggotaan, konsumen bisa mendapatkan akses ke produk berkualitas tinggi dengan harga lebih murah, diklaim tidak bisa ditemukan produk di platform e-commerce lain, dan berkesempatan mencoba produk sampel dari merek baru.
Biaya berlangganan saat ini ditawarkan mulai dari Rp29.900 untuk tiga bulan selama masa promosi berlangsung. Khusus anggota, mereka akan mendapat penawaran harga spesial lebih hemat hingga 10%, gratis ongkir untuk belanja minimum Rp250 ribu, dan mendapat produk gratis.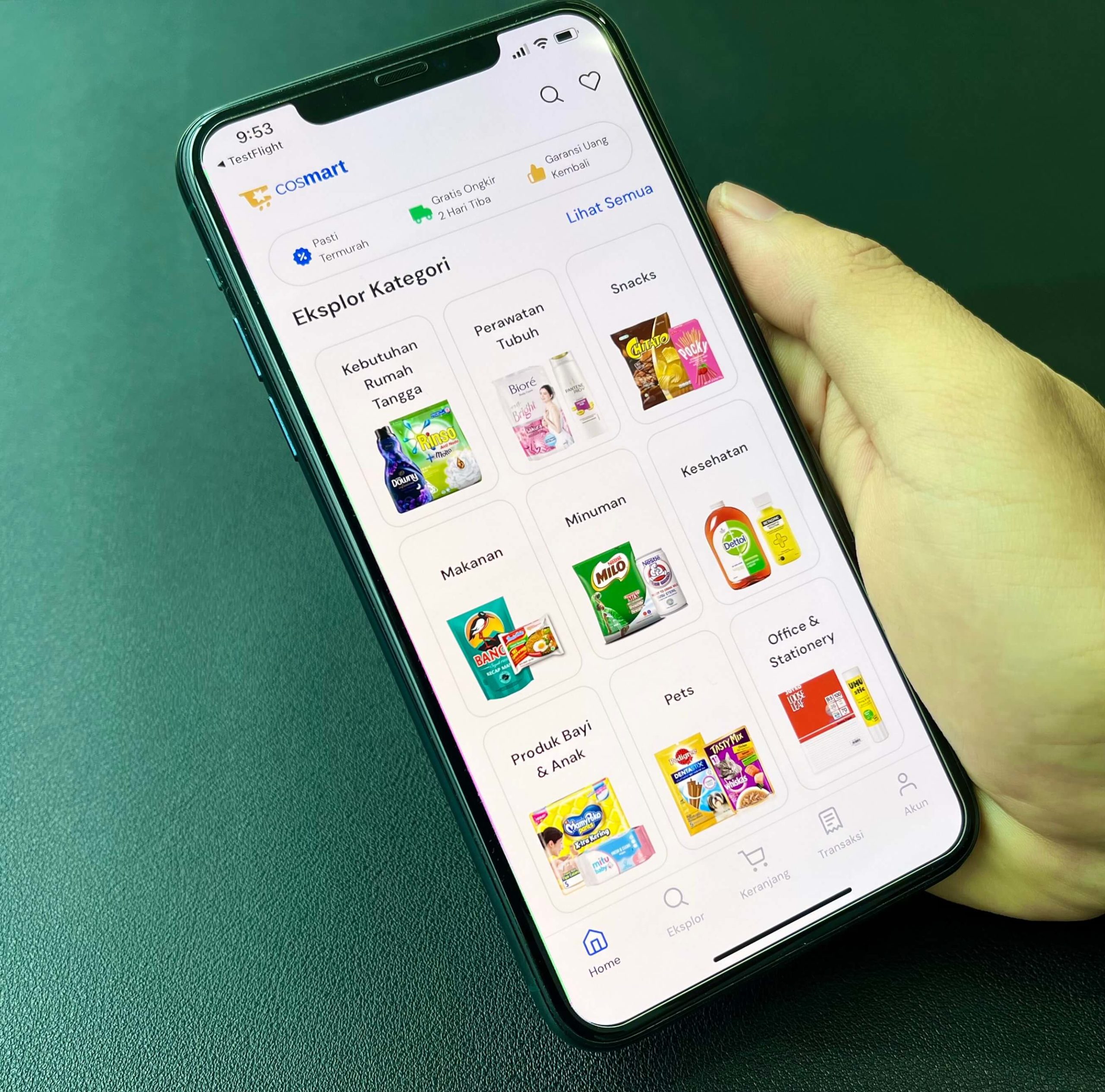 Cosmart mengembangkan teknologi yang memudahkan pengguna untuk menemukan, menjelajahi, dan memilih merek dan produk baru. Kelebihan tersebut membuat mereka optibis bisa menghadirkan pengalaman belanja yang cerdas dan menguntungkan bagi pengguna.
Startup ini baru berdiri pada kuartal II tahun ini, dirintis oleh Alvin Kumarga dan Robert Tan yang memiliki pengalaman luas dalam mendirikan dan mengembangkan perusahaan. Alvin yang sebelumnya berkarier sebagai SVP of Financial Services di Traveloka, Airy Rooms, dan Boston Consulting Group.
Diklaim Cosmart telah menjual lebih dari 100 ribu produk pada 10 kategori produk, bermitra dengan lebih dari 80 produsen. Pertumbuhan bisnis Cosmart disebutkan tumbuh enam kali lipat dalam tiga bulan terakhir, dan volume belanja bulanan tercatat naik empat kali lebih tinggi dibandingkan aktivitas belanja di platform lain.
Masing-masing investor menyampaikan pernyataannya dalam keterlibatannya melalui keterangan resmi yang disampaikan hari ini (3/10). Salah satunya, Co-founder dan Managing Partner East Ventures Willson Cuaca. Dia bilang, "[..] Indonesia memiliki potensi besar untuk industri perdagangan. Kami percaya Alvin dan timnya akan menangkap peluang ini dan membawa lebih banyak pertumbuhan dan dampak positif bagi masyarakat Indonesia."
Partner Vertex Ventures SEA & India Gary Khoeng menambahkan, "[..] Seiring lanskap ritel Indonesia yang terus berkembang pesat, kami sangat percaya pada pendekatan baru Cosmart untuk melayani segmen pelanggan lebih besar yang menghargai value dan belanja dengan cermat, di antara banyak manfaat lainnya sebagai anggota, terutama saat inflasi dan biaya kebutuhan meningkat saat ini [..]."
Co-founder dan CEO Cosmart Alvin Kumarga menyampaikan, pihaknya senang dapat bermitra dengan para investor untuk memulai misinya dalam membantu pengguna di Indonesia membuat keputusan pembelian yang lebih baik.
"Di Cosmart, fokus kami adalah menghadirkan produk konsumen berkualitas tinggi dengan harga kompetitif sehingga pengguna kami selalu merasa mendapatkan value terbaik dan merasa senang baik itu dalam menemukan merek baru yang sudah ada maupun yang akan datang, mendapatkan sampel gratis, atau manfaat keanggotaan lainnya," kata Alvin.
Application Information Will Show Up Here
Are you sure to continue this transaction?
processing your transaction....