Tren Pendanaan Startup Indonesia Sepanjang 2021
Sepanjang tahun 2021, ada 213 putaran pendanaan dengan nilai yang diumumkan sebesar lebih dari $4,3 miliar
Di tahun 2021, Indonesia telah memiliki 12 unicorn dan lebih dari 50 centaur.
Banyak aspek yang dapat dijadikan variabel pengukuran untuk melihat kematangan ekosistem startup di sebuah negara. Adapun pendanaan atau investasi menjadi salah satu yang terpenting, karena di dalam sebuah proses pendanaan terdapat serangkaian tahapan validasi untuk menilai kualitas bisnis, pasar, teknologi, hingga founder. Bergulirnya sebuah pendanaan berarti ada sebuah startup yang berhasil tervalidasi melalui hipotesis-hipotesis yang dimiliki oleh pemodal.
Sepanjang tahun 2021, ada 213 putaran pendanaan startup yang diumumkan dan membukukan total nilai lebih dari $4,3 miliar dari 126 transaksi yang disebutkan perolehannya. Capaian ini meningkat jika dibandingkan dengan tahun 2020, yakni 113 transaksi dengan nominal $3,3 miliar dari 50 transaksi yang diumumkan nilainya.
Berikut ini ulasan mengenai data pendanaan startup pendanaan startup Indonesia yang berhasil dikumpulkan oleh tim DailySocial.id.
Pendanaan tahap lanjut meningkat
Pendanaan tahap lanjut mendefinisikan putaran yang terjadi setelah tahap awal. Di tahun 2021, ada 45 startup yang membukukan pendanaan seri A, 33 seri B, 10 seri C, 2 seri D, dan 1 seri F. Jika digabungkan, angka ini melebihi perolehan pendanaan tahap awal yang jumlahnya mencapai 81 transaksi.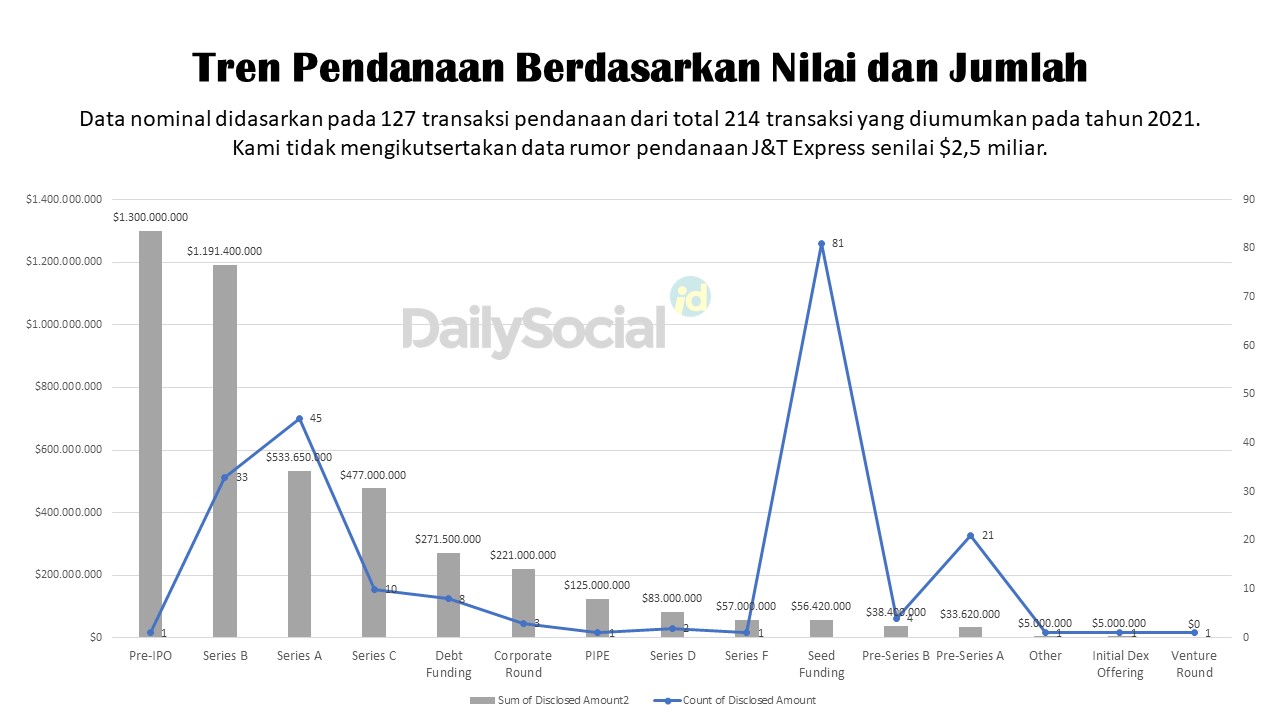 Welcome to Premium Content
Become a DailySocial.id Subscription, you can get unlimited access to discover the best minds of innovation and to perceive the finest tech journalism products in Indonesia. Learn more
Single Article

Access anytime, only this article.

Starting at

Rp 7,000 /article

Subscription

Unlimited access premium content.

Starting at

Rp 150,000 /month
Login or create account to access premium content
Are you sure to continue this transaction?
processing your transaction....