YouTube Shorts Rayakan Hari UMKM dengan Kampanye #SambilanCuan Bersama Kreator dan Digitalpreneur
Rayakan Hari UMKM Internasional, YouTube Shorts adakan kampanye #SambilanCuan bersama Jerome Polin, Sonia Basil, dan Christie Basil.
Pada 27 Juni 2022 lalu, YouTube Shorts mengajak masyarakat untuk merayakan Hari UMKM Internasional bersama kreator dan entrepreneur ternama, antara lain Jerome Polin, Sonia Basil, dan Christie Basil, melalui kampanye bernama #SambilanCuan.
Melalui kampanye #SambilanCuan ini, masyarakat diajak mengikuti jejak para digitalpreneur ternama tersebut untuk meraih kesuksesan mengembangkan bisnis melalui pemanfaatan media YouTube Shorts. YouTube Shorts adalah salah satu fitur pada YouTube yang dapat digunakan oleh para pelaku UMKM membagikan konten-konten promosi atau hiburan terkait usaha mereka.
Dalam acara yang bertajuk "Jadi yang Pertama Tau Bersama YouTube Shorts #SambilanCuan" kemarin (27/06), Jerome Polin, Sonia Basil, dan Christie Basil membagikan banyak tips dan pengalaman berharga mereka dalam membangun bisnis di era digital.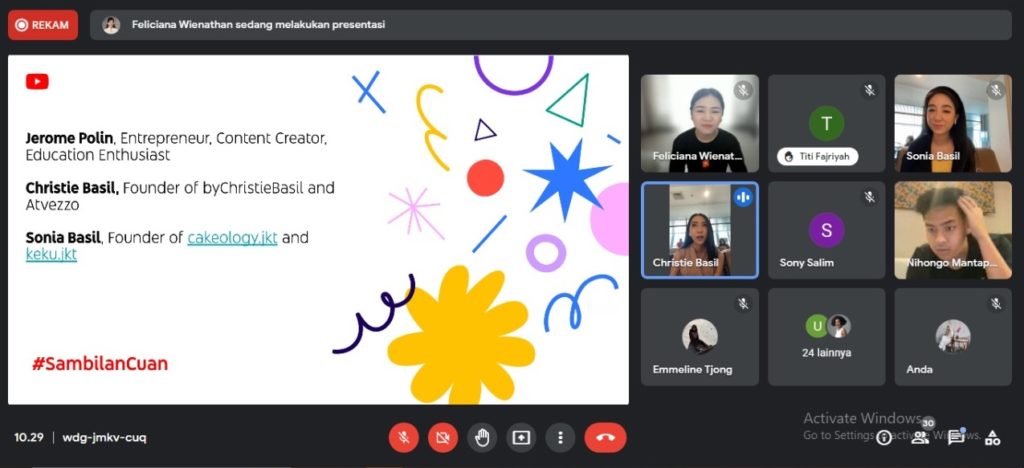 Jerome Polin, pemilik channel YouTube Nihongo Mantappu dan Menantea, berbagi cerita serunya dalam memulai channel YouTube dan bisnis F&B miliknya. Ia menjelaskan bahwa channel YouTube Nihongo Mantappu ia mulai dari kesulitan yang dialaminya dalam menemukan channel YouTube untuk belajar bahasa Jepang. Kemudian, hal yang sama juga mendasari bagaimana ia membuat Menantea. Berangkat dari eksperimen bersama teman-temannya dan kesadaran bahwa belum adanya bisnis teh buah di Indonesia membuat Jerome Polin akhirnya memutuskan untuk membuka Menantea.
Tidak hanya Jerome, Sonia Basil juga membagikan pengalamannya dalam merintis bisnis Cakeology sejak awal hingga sekarang. Sonia mengakui bahwa alasan pertama ia membuat konten pembuatan kue adalah ingin mengedukasi masyarakat terkait cake decorating. Tak disangka, ternyata banyak respon positif yang ia dapat dari pembuatan konten tersebut. Dengan bantuan teknologi digital dan platform video singkat seperti YouTube Shorts, kini Sonia bisa mengembangkan usahanya lebih besar dengan beberapa karyawan dari yang sebelumnya hanya ia jalankan seorang diri.
Pada kesempatan yang sama, Christie Basil, pemilik bisnis gaun byChristieBasil, juga ikut sharing bagaimana konten dan teknologi telah mengubah bisnisnya ke arah yang lebih baik. Berkat konten yang sering ia buat, kini Christie tak jarang menemui klien yang sengaja menggunakan jasanya untuk bisa masuk ke kontennya. Dari situ dapat dilihat bahwa konten membawa usaha Christie menjangkau market yang tidak direncanakan atau bahkan tidak pernah terpikirkan oleh dirinya sendiri sebelumnya.
Tidak dapat dipungkiri, pemanfaatan teknologi dan media melalui pembuatan konten membawa dampak yang sangat besar bagi sebuah usaha. Satu tips penting yang dibagikan oleh Jerome, Sonia, dan Christie untuk siapapun yang ingin mulai membuat konten adalah jadilah unik.
Temukan keunikan Anda dan bagikan pengalaman, cerita, atau behind the scene bisnis Anda melalui kampanye #SambilanCuan YouTube Shorts guna mengikuti jejak ketiga kreator ternama Indonesia di atas meraih keuntungan dari pemanfaatan teknologi digital.
Are you sure to continue this transaction?
processing your transaction....